Van der Wal is the first Dutch company ordering electric truck mounted forklifts
15 February 2021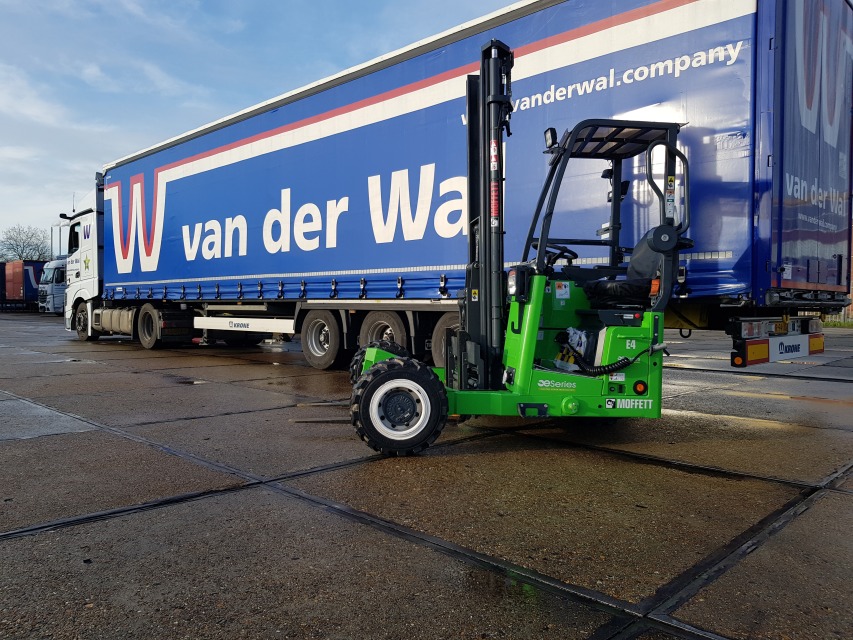 Utrecht - Van der Wal has become the first company in the Netherlands to order truck mounted electric forklift trucks. Eight innovative Moffett forklift trucks from importer Hiab will be delivered by supplier Quickstra in May.
Electric, silent and three-wheel drive
This Moffett brand carry-on forklift is so special because it is the first electric forklift with three-wheel drive.
This allows it to drive over unpaved terrain with ease. This version is therefore ideally suited to projects in the construction industry and for laying out solar parks.
Furthermore, the electric power supply ensures that the machine is very quiet. This gives a lot of extra flexibility for deliveries with noise restrictions, such as often applies at very early and late hours in urban areas.
Charging on the go
Another handy innovation is the charger built by Van der Wal itself. Custom-designed in collaboration with Quickstra and Hiab, this charger makes it possible to charge the forklift's battery while on the move. "With these chargers we can keep our equipment on the road for a longer time, even in places where we would otherwise not be able to recharge in between trips. Handy to avoid unnecessary kilometers", says owner Henk van der Wal.
Waited three years
When asked why Van der Wal was given the first order, Lennard Kikstra, owner of Quickstra, replies: "Henk has been saying for about three years that he doesn't want to replace his forklift's until I can deliver electrical ones. I have given importer Hiab and the Moffett factory in Ireland extra encouragement to develop a 3-wheel drive machine for our customers. We succeeded, and we are proud that we have the scoop with Van der Wal, and can move forward into the future together."
Investing in sustainability
Van der Wal says in its sustainability program, called Kill Empty Running, it's all about making the most of the opportunities that exist now. So don't wait for what's to come, for what technology or legislation is going to save us but take action now. So why did Van der Wal wait three years? Henk explains: "It is important that we invest in making our equipment more sustainable where possible. Since it was technically possible, I absolutely wanted to invest in this and not in older, outdated technology with which hardly any sustainability gains could be made."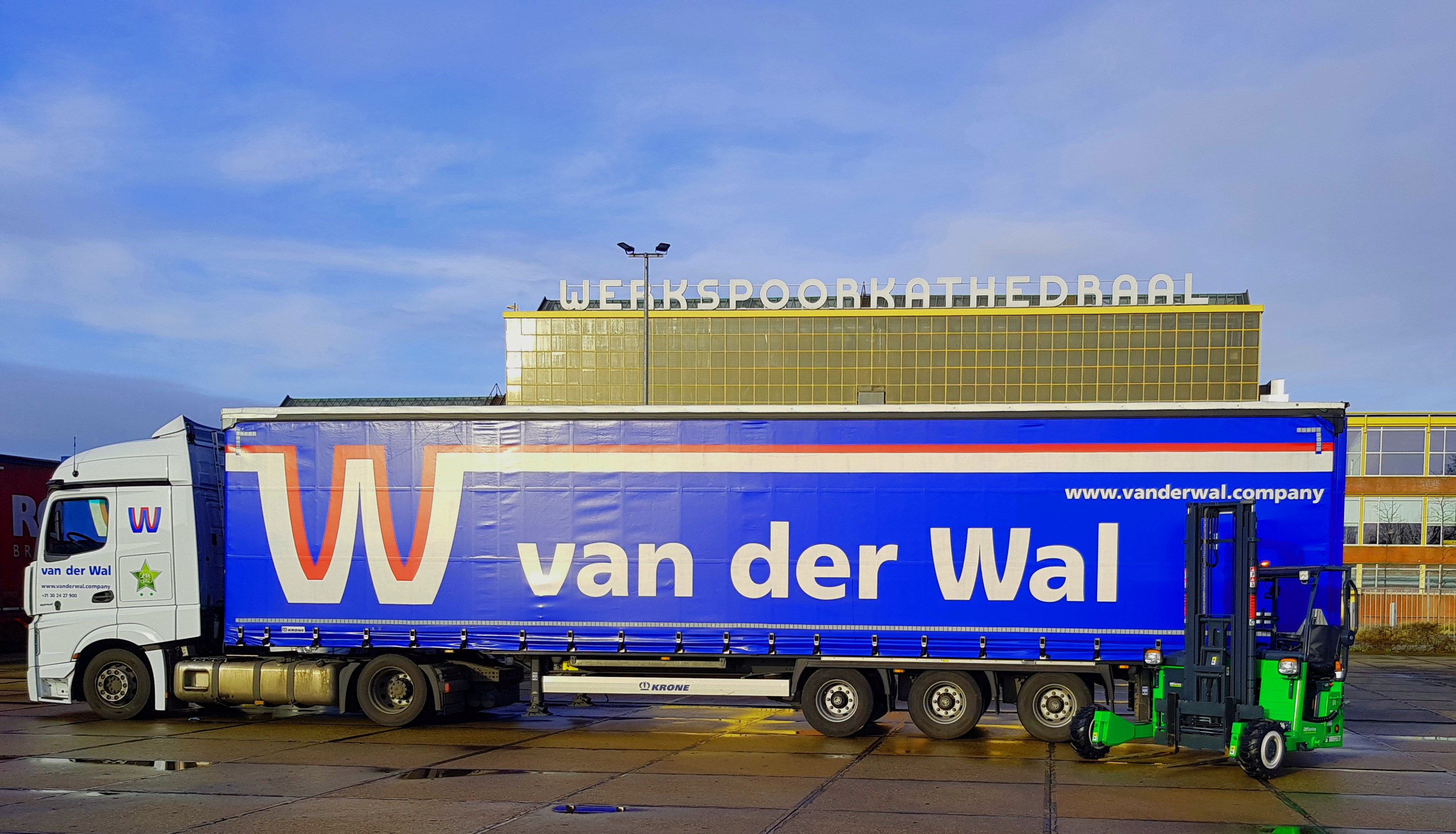 High demand for low CO2 emissions
More and more customers are weighing (CO2) emissions in their tenders. We see this, for example, among customers in the construction sector. Increasingly, they must or want to meet a certain maximum CO2 emission, and transport is also included in this. This limitation makes it worthwhile for deliveries to be as CO2-neutral as possible.
Henk also mentions another important group of customers: "We drive for customers with clearly sustainable products and missions. They often choose us because we can already make significant improvements by organizing their transport in a smarter way, for example by using LHVs. These customers react very positively when I tell them that we will soon be loading and unloading electrically."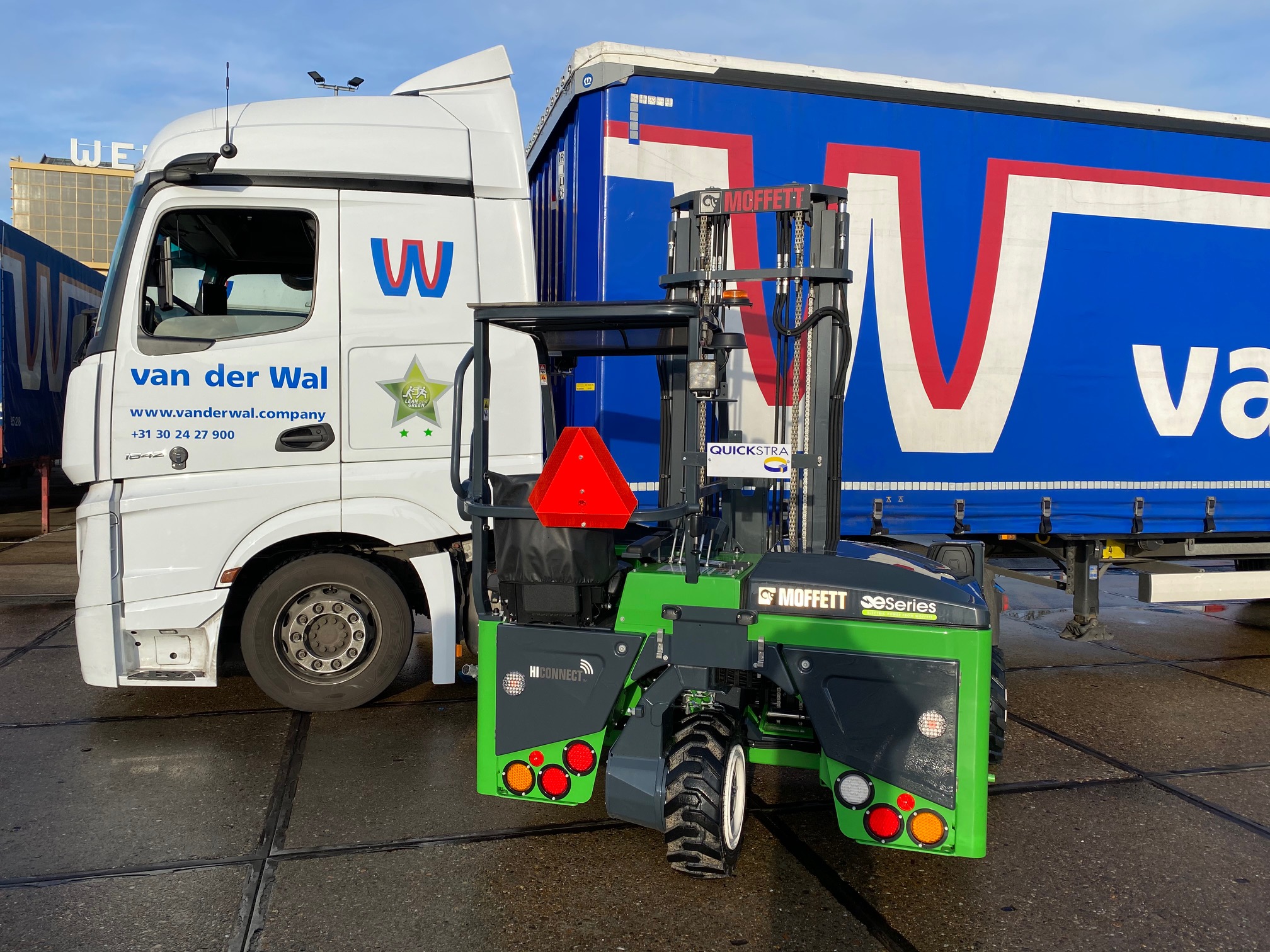 For more information: Stefan Scholten, Van der Wal, s.scholten@vanderwal.company / 06 52 52 54 44
Lennard Kikstra, lennard@quickstra.nl - 0345-547080
About Quickstra
Since 2000 Quickstra is the best and most well-known service organization in the Netherlands in the field of Kooiapen. For buying, renting, maintenance, repairs and spare parts for all carry-on forklifts you are at the right place at Quickstra. We are also an official authorized dealer for all brands. With an experienced team always ready to serve the customer, in a beautiful workshop centrally located in Culemborg with all facilities. See also www.quickstra.nl.
About Van der Wal
Van der Wal is a logistic service provider with offices in the Netherlands, England, Poland, Romania, Russia, Kazakhstan and Azerbaijan. It is their mission to provide the best possible sustainable transport solution based on fairness and respect for people and society. Van der Wal offers not only physical transportation (2PL), but also 3 and 4PL activities. See also www.vanderwal.company and www.vanderwal.company/blog. Are you interested in the developments at Van der Wal? Then you might want to follow us on LinkedIn.